The HAG Capisco
The multi-award winning HÅG Capisco 8106 Chair stimulates intuitive and natural movement of the body in a variation of sitting postures for improved health and well-being. Our mission is to give movement and variation to the workplace. Improved posture, blood circulation and less headaches. Increase your productivity, creativity and ability to concentrate.
Whether seated forwards, backwards, sideways or reclined, the Capisco Chair has a position for you, coupled with unprecedented freedom of movement.

The HAG Capisco can be easily adjusted to suit different users, the saddle seat can be set between low and high working positions – all the way up to standing – enabling you to be more dynamic in your movements while still balanced. The seat height, seat depth and back height can be adjusted. Tilt resistance is adjustable and lockable.
The saddle seat gives you an upright posture maintaining the natural curve in your lower back. This results in you putting no extra pressure on your back, helping to relieve and prevent back pain.
The HAG Capisco task chair has received several awards for its modern designer qualities and characteristics.
Features
Great Seat Height Adjustment
You can adjust the seat height from a normal desk sitting height to a semi standing position. Making it the ideal office chair suited to work surfaces at different heights and for use with a height-adjustable desks.
Seating Variation
You can sit equally comfortably forwards, backwards or sideways on the Capisco. Allowing you stay comfortable while changing your seating position to suit the task in hand.
Adjustable Backrest
Backrest can be adjusted to suit your individual needs and seating position, improving comfort.
Unique saddle seat with BalancedMovementMechanismTM
The shape of the seat and the chair mechanism allows you sit in a balanced position and to move easily forward or backwards. Always remembering your next position is your best position.
Warranty & Returns
Check out our Returns Policy for more details.
7 Year Ergonomics 101 Warranty
(10-FL-CAP)
HÅG in Balance® (balanced, flowing tilt function)

Adjustable tilt tension backwards

Seat height adjustment

Seat depth adjustment

Back height adjustment

Lockable seat

Suitable for all working surfaces with table height of 72 cm and higher

Five star base in aluminium (Ø730 mm) with curved/arched footplates, black, silver or white, optionally in polished aluminium (see options below).

200 mm lift (Seat height: 470-655 mm). We recommend the optional 265 mm lift if you want to work with a desk in a high position.

HÅG FootRing is available option with 200 or 265mm lift

HÅG StepUp is available as option




DIMENSIONS

Back height: 460 mm

Chair width: 595 mm

Foot base diameter: Ø730 mm

Seat depth: 340-420 mm

Seat height: 408-540 mm

Seat width: 470 mm

Weight: 14 kg

ADJUSTMENT FEATURES
• Headrest*
• Seat height
• Seat depth
• Back height
• Backward tilt tension
• Lockable tilt
*HÅG Capisco only
Be The First To Review This Product!
Help other Ergonomics101 users shop smarter by writing reviews for products you have purchased.
More From This Category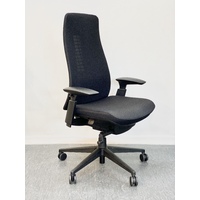 From $1,199.00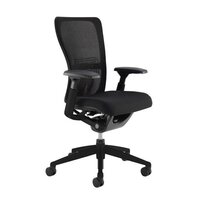 $899.00