Height Adjustable- Sit to Stand

In the 1970s, Height Adjustable desk's were operated manually with a crank handle that varied the height accordingly. As time moved on, motors were used in construction with shaft drives and gearboxes to move the desks up and down.
The latest technology used actuators to lift the desks. Each leg has an individual actuator (motor) that uses an electronic current to convert energy into motion. These types of desk offer more precise calibration and high-efficiency power supplies. These are cheaper to run and therefore better for the environment.
When choosing a desk you need to choose the right lift capacity to suit either a small or large workstation, taking into account any accessories or equipment you place on or attach to the desktop.
Standard colours, optional designer colours, recycled woods, and finished are also widely available.
When you sit...
The risk for cardiovascular disease increases by 40% over time

The enzymes that help break down fat drop by 90%

Uninterrupted for more than 6 hours, you counteract the effect of 60 minutes of exercise
When you stand...
You can reduce the risk of illness by up to 25% when active and moving

You burn up 50kcal more per hour compared to sitting

Your muscle activity is almost 2.5 times higher than during sitting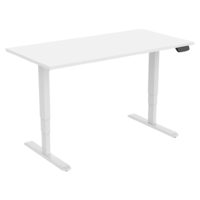 $1,049.00