Footrests

Good posture is important to lasting health and wellbeing, which is why Ergonomic 101 offers a full line of ergonomic footrest solutions to ensure you sit ergonomically at your workstation- comfortably, upright and free from strain or pressure.
An ergonomic footrest can be an integral part of the workspace.
For example, if the desk height is too high, the footrest can "lift the floor" providing correct postural alignment of the shoulders, arms and wrists to desk space.
The footrest is also helpful to engage the movement of a synchronized movement office chair.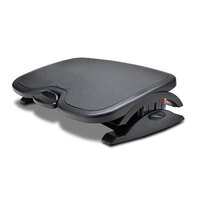 $104.50